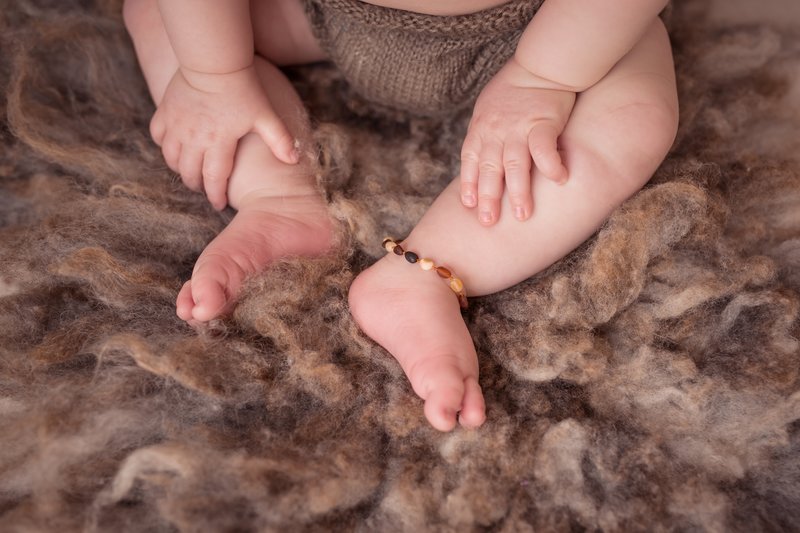 Handmade with high quality Baltic Amber Beads, Amber Anklets are available in Raw Lemon, Raw Honey, Raw Cherry & Raw Multi Beads.
Available in 5 different Sizes -14cm, 15cm, 16cm,17cm &18cm
Please note the following when your child is wearing an Amber Anklet:
- Anklets are to be worn under clothes & not to be chewed. Wear at all times but remove for swimming & Bathing
- Detergents & perfume will damage the item
- Before allowing your child to wear an Anklet check that it is not damaged or faulty
- Clean Anklet in soapy water
- And remember Amber Anklets are NOT a toy.
The Amber Anklets have a tight twist clasp and have a safety knot between each bead.
Measuring for Anklets
When Measuring your child for the Amber Anklet be sure that the Anklet will fit quite snug on the Ankle and not too loose that it may fall off. Measure the Ankle while your child is standing up and use a measuring tape or a piece of string which can be measured once cut to size. Ensure that there is enough movement in the Anklet so that it is comfortable for your child but not loose so it may falls off.
Regulations
EU toy safety regulations EN-71-1. Our Anklets are not a toy, please do not allow your children to play or chew on them. Our Jewellery for children must be worn under adult supervision. Not suitable for children under 36 months due to small parts.
FREE FIRST CLASS POSTAGE ON ALL ANKLETS
http://onestop-babyshop.co.uk/t/raw-amber-anklets